Posted on April 3, 2017
Fear stalks the land.  The Robot Apocalypse is nigh, destined to steal our jobs and our future.  Worse yet the machines are made elsewhere (Germany, Japan, even China) and America is being left behind in the race for manufacturing prowess.
We've heard this story before.  In the late 1980s, the U. S. computer memory industry had been decimated by Japanese and Korean competition.  To the Cassandras, this meant that the U.S. had forever lost the global economic race and was destined to become a second-rate power.
Nothing could have been further from the truth.  The prerequisites for U.S. global dominance of the technology world were already in place.  Within a few years, U.S. prowess in personal computers, microprocessors, and digital networking would lead to a capital investment boom and a stock market bubble not experienced since the 1920s.  Stock market fluctuations notwithstanding, the global growth of the Internet has not abated since.
For all its impact, the Internet has touched only a relatively small portion of human existence, focused primarily on media, entertainment, telecom and more recently retailing and finance.  The larger world in which we live, the world of things and physical interactions has, until now, been only lightly touched.  But that is going to change – and change in a huge way.
Imagine Amazon on Steroids
The world of digital automation is at the same stage as the internet in 1993, when the Mosaic browser was introduced and we first discovered the wonders of the World Wide Web.  The technologies are in place for a boom that will transform the global economy and, in the process, create new opportunities for better jobs and better lives.  And once again the U.S. is asserting its leadership role in developing the critical technologies.
Today Amazon utilizes highly advanced predictive analytics and automation tools that plan … read the rest
Posted on August 24, 2013
John Mason – Originally Published at Seeking Alpha – Reprinted with Authors Permission
In this article I will review the book "The End of Competitive Advantage," by Rita Gunther McGrath, published by the Harvard Business Review Press in 2013.
I like to think of myself as a "value investor." That is, I believe that I invest in quality companies that are underpriced. In terms of the quality of the organizations I like to invest in, I look for firms that have established a competitive advantage in their industries and are earning at least a 15% return on equity, after taxes. To judge the quality of management and its staying power, I look for those organizations that have a sustainable competitive advantage, defined as earning a 15% return on equity, after taxes, for a period of five to eight years. And, to capture the fact that a stock may be underpriced, I look for a low price/earnings ratio.
Other factors that have been important in my analysis are the industry share the company achieves and protects and the stability of this share over time. Of course, these are the quantitative factors and must be supplemented by other factors, such as an examination of management, industry make-up, and governmental factors that might contribute to firm performance.
Well, starting right here, Dr. McGrath starts to eat away at this picture. For one, she argues that industry boundaries are no longer that important. She argues that "arenas" are more crucial in the modern environment. The important thing in today's world is that there are connections between "the outcomes that particular customers want (the jobs to be done)" and "the alternative ways those outcomes might be met" (page 10). Industry lines are not the determinants of what products one should be producing and what markets they should be sold … read the rest
Posted on September 25, 2012
Originally Published at Global Economic Intersection under the title Buddy Can You Spare a Dime?

Written by John Slater, Capital Matters
"Republicans are heartless monsters who have no compassion for the victims of a financial crash they caused by manipulating Wall Street."
"Democrats are committed to destroy the American system by redistributing the hard-earned products and services of America's businesses to shiftless moochers."
Wow, are we making progress in the current political debate!
Follow up:
Cyclical or Structural?
For economists the discussion revolves around a more civil discourse on whether the current high level of unemployment results from a severe cyclical downturn or from a structural change in the American economy. The Federal Reserve has forcefully adopted the cyclical downturn mantra, committing $500 billion per year to the assumption that, with more financial stimulus, the jobs will come back.
Buffalo Springfield's insight from the 1960s is still valid:
I think it's time we stop, hey, what's that sound?
Everybody look what's going down
What a field day for the heat
A thousand people in the street
Singing songs and carrying signs
Mostly say, hooray for our side
A Big Bet With Millions of Human Poker Chips
We are in the process of making an enormous bet with the American economy. The risks are not trivial: inflation, deflation, financial and social collapse are just a few. Yet what if this bet is being made based upon a misunderstanding of the problem with which we are faced.
Steven Hansen recently produced a rather depressing chart showing that, despite a period of steady economic recovery, civilian employment in relation to population flatlined beginning in late 2009, after a very sharp drop from 63% to 58% during the financial crisis.
The Robot … read the rest
Posted on August 23, 2012
Everyone loves small business.
At least that's what the politicians want you to believe.
The reality is different. Small business is under attack from every quarter. Government policies favor large banks and large multinational businesses. Credit is tight and the banks favor the larger borrowers. Increased regulations stifle innovation and protect large incumbents that can afford teams of lawyers and lobbyists.
What's the little guy to do? Waiting for the politicians to change the system is wishful thinking. Smart business people find ways to prosper in every environment.

And the current environment is not great for small firms. The Federal Reserve Senior Loan Officer survey has recently confirmed what we have suspected for some time: banks have been more generous in easing underwriting requirements for larger companies than they have been for smaller companies. Paynet, which maintains data on 17 million small business loans, reports that lending conditions for small firms have deteriorated in recent months after two years of bounce back from the 2009 bottom.  For additional details go to the full article on Capital Matters.

Financial Market Risk
And there's a risk that things could get a lot worse for businesses that don't tie down their financing soon.  We just published an article on Seeking Alpha that has received a great deal of attention with more than 14,400 page views so far. Our thesis is that the Fed's zero interest rate policy has led to a situation where longer term treasury bonds are trading at yield levels that provide a spread to inflation far below the historical norms. Markets eventually return to their mean and often overshoot it so there is growing risk in the longer term debt market. Our concern is two-fold. First, that individual investors need to be aware of the potential impact of this return to the mean … read the rest
Posted on August 15, 2012
The most recent Federal Reserve Senior Loan Officers Survey conducted at 64 large banks confirms what we have suspected. After a long period of tightening, loan standards have stabilized and for larger borrowers they have loosened slightly. The survey provides less hope for smaller borrowers, shown in red on the chart below.
(Click on Image to enlarge)
This confirms data we published previously showing that small business lending has entered into a choppy period in 2012 after seeing moderate improvement from the 2009 lows during 2010 and 2011. Things are only likely to get worse for smaller borrowers as their natural allies, the community banks, struggle with maturing underwater CRE (commercial real estate) loans, continued pressure from their regulators and rapid industry consolidation.
FDIC data shows that bank credit availability is likely deteriorating for many cash starved small businesses. From December 31, 2010 to March 31, 2012, C&I (commercial and industrial) loans at banks over $1 Billion, i.e. those that focus on lending to large multinationals and mid-sized domestic firms, grew approximately 20% from $1 Trillion to $1.2 Trillion. For banks under $1 Billion, i.e. those most focused on small business lending, C&I  loans actually dropped 6% during the period from $110 Billion to $103.5 Billion.
We increasingly see smaller firms struggle to obtain funding if they do not have adequate hard collateral (equipment, inventory or receivables) or if the owners don't have personal assets to pledge to support the loans. If you are a small business with a capital need to support a growing business, you're asking "what options do I have?" Recently some innovative non-bank financial services firms have stepped into the breach and are beginning to offer new forms of small business finance based not on specific collateral, balance sheets or income statements, but on a company's proven ability to generate … read the rest
Posted on August 9, 2012
Source: Paynet
Small business lending has grown steadily since the end of the recession.  The Thomson Reuters/PayNet index focuses on loans to borrowers with total indebtedness under $1 million.  In a related story it was reported that preliminary June data not reflected in the chart above shows a sharp 5% drop in small business lending.  The article paints a rather gloomy picture for small businesses and the economy as a whole.
PayNet President William Phelan explained, "Businesses and bankers should prepare for more slowdown. Now might be the time to consider adding capital. Credit supply is high and interest rates are incredibly low." Phelan added "banks should strengthen credit quality to prepare for further slowdown. Stress Tests show that a full blown recession means small business failures could triple."
According to Paynet the Thomson Reuters/PayNet Small Business Lending Index (SBLI) measures the volume of new commercial loans and leases to small businesses indexed so that January 2005 equals 100.  Because small businesses generally respond to changes in economic conditions more rapidly than larger businesses do, the SBLI serves as a leading indicator of the economy. The index is a highly correlated leading indicator of the GDP by 2 to 5 months.
There is some good news in the report.  Small businesses have been steadily improving their balance sheets since the beginning of the recession and loan delinquencies are at historically very low levels, with severe delinquencies much lower than 2005 the first year for which data is available.  However, the report goes on to say that small business investment rates are lower than in 2005 as companies pay down debt and build cash.  Banks are under-loaned with loan to deposit ratios of 60-70% and are competing hard for the few high quality loans that are available.  While businesses are being cautious in this difficult … read the rest
Posted on June 12, 2012
America needs jobs!   That's a point where there is universal agreement among the political parties.  So much so that Congress overwhelmingly passed the Jumpstart Our Business Startups (JOBS) Act; 390 to 23 in the House and 73 to 26 in the Senate.  My suspicion is the most of those voting for the Act had little idea of how far-reaching the effects of the JOBS Act might be.
The JOBS Act may represent the most radical change in how securities can be privately sold and business capital can be raised from private investors since the securities laws were passed in the 1930s.  Under the JOBS Act most of the restrictions with regard to solicitation that have impeded the growth of a vibrant private placement capital market among accredited investors (i.e. those with liquid net worth over $1 million or incomes over $200,000) have now been removed.
The devil is always in the details and SEC regulations promulgated under the Act could potentially curtail some of its impact.  As written, the JOBS Act has the potential to democratize the financing of business growth in a very dramatic and potentially unintended manner.  By removing many, if not most, of the restrictions on accredited investors seeking to invest in small companies, the JOBS Act provides a basis for many innovative new vehicles for small business financing to blossom.
While most of the commentary around the JOBS Act focuses on funding of startups, the real financing need is to support the expansion of the rapidly growing mid-sized companies that, according to the National Bureau of Economic Research, provide the engine for new jobs in America.  These companies typically have progressed past the startup stage.  They may have 20-50 employees and several million dollars of revenue, with the potential to grow to hundreds if not thousands of employees as … read the rest
Posted on January 24, 2012
Over the years one of the best indicators of M&A activity has been what I call the Free Lunch Index. I live in Memphis, normally not a hotbed of middle market M&A activity.  That's why my practice is national in scope.  When banks or private equity groups do come to town looking for deals, I often get a call for lunch, breakfast or coffee.
Since the crash in 2008 it's been fairly lonely out here and I pretty much buy my own lunches. Starting this month, however, I've seen a marked pickup in calls and lunch invitations.  The word appears to be out among both the private equity groups and the financial institutions that now is the time to get back into the market and they're actually spending money to look for deals.
Our experience at Focus indicates that business sale interest has increased strongly since yearend. Apparently we are not alone.  Cyprium Partners, a leading mezzanine financing specialist, recently completed a survey of 175 investment-banking firms throughout the U. S.  Among their findings, 44% of respondents reported more assignments signed or in the market than at a comparable time in 2010.  56% reported that new business pitches were up and less than 10% of the firms reported lower activity.  Bottom line the M&A business is improving and that's consistent with our belief that the overall economy will surprise to the upside.
It's no secret that the U. S. private equity industry has been in a depression over the past three years.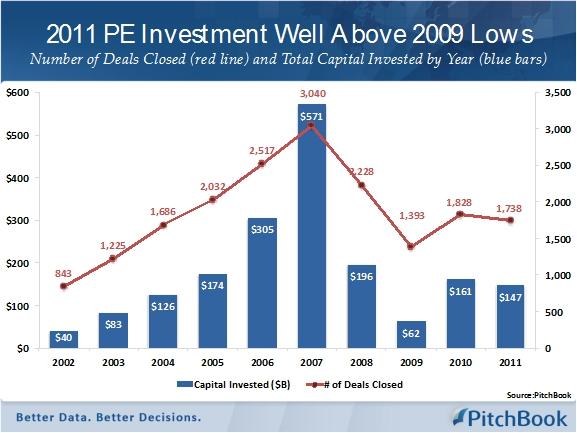 Source: Pitchbook
Private equity deal flow showed great promise this time last year, but fell precipitously by the end of 2011.  Interestingly, according to Capital IQ, global aggregate annual deal flow in terms of number of transactions has been far more stable while dollar values have fluctuated widely.
Year                          # of  … read the rest
Posted on December 19, 2011
America is stumbling toward one of the most important decisions it has made in decades: how to bring our financial accounts back to a sustainable balance.  Due to a lack of perspective on tax policy over time, the political decision makers and the media have accepted misleading data with regard to an assumed increase in inequality of income as the primary framework for the debate.
With tax receipts at historic lows and expenditures heading for the stratosphere, no rational observer doubts that this decision will entail a combination of both spending cuts and tax hikes.  Republican rhetoric aside, the real question on the tax side of the debate is how these tax increases will be structured.  I am increasingly concerned that Congress will make a huge mistake that will penalize the mid-sized businesses, i.e. growing companies with 50 to 500 employees, that serve as the backbone of American productivity and that are the only hope for domestic jobs growth.
Let's start with a bit of history from my personal experience, first as a business and tax lawyer and for twenty-eight years as an investment banker serving entrepreneurial businesses in M&A and arranging business financings.  When I started in practice, essentially all substantial businesses with which we worked were structured as C Corporations.  A typical client might be a manufacturer with 100 plus employees, revenue of $10 million plus and pre-tax profits of $1-2 million.  The owner often took a surprisingly small salary, say $100-125,000, paid a small amount of personal expenses from the business and retained the rest of the company's profits in the corporation.
As a result of changes in federal tax law and the parallel development of Limited Liability Corporations (LLCs), a major shift from C-Corporations to pass-through entities began in the middle 1980s.  To demonstrate how dramatic this shift has been, … read the rest
Posted on March 21, 2011
Doug Rodgers, CEO of Focus LLC publishes an annual update on the M&A market.  You can download this year's version here.  We've interviewed Doug to get his views on the current M&A market.
The most interesting take-away from the study is that, while M&A activity in larger companies collapsed during the financial crisis, sales of $50 million and under revenue companies declined far less in comparison.
a
a
a
(click on image to enlarge)
There was, however, a severe decline in EBITDA multiples for under $50 million companies (shown in blue) from 8x to 6x from 2008 to 2009.  This drop was fully recovered in 2010, though we are still well below the all-time peak of 9x in 2005.
(click on image to enlarge)
From our perspective, this indicates that business owners tend to react more to their personal situations and opportunities, rather than carefully planning their business exits.  This can have profound implications to sellers in a market where the variance in sales multiples was fifty percent from the low in 2009 to the high in 2005: sale in a strong market can result in much more satisfactory results for the seller.
To download the report click here.
To hear the full interview click on Doug's picture below.