Posted on October 2, 2012
Recently the Wall Street Journal published an article entitled "The Economy Stole My Retirement". The subcaption reads "Nest Eggs In Peril For Millions Of Entreprenuers in Their 60s And 70s Who Can't Sell Their Companies".
Over the years we have met many business owners who just assumed that if they waited long enough a perfect buyer would come along, offer them a great price for their business and pave the way for a timely and comfortable retirement. According to the Wall Street Journal article "Boomer entrepreneurs grew up believing in the American dream that you start a business and eventually sell it for a good return or pass it on to your kids."
With stagnant revenues and declining profits the norm for many small businesses since the financial crisis, the sad fact is that for many business owners there just won't be a buyer.  Even worse far too many business owners who receive a serious offer for their firms will make the fatal mistake of assuming that, if they received one good offer, they will receive more and have the luxury of waiting until sale is more convenient or the price is higher.  Many of those owners will regret that decision dearly.
After three+ years of economic recovery, we are at a point in the financial cycle that may soon provide many Baby Boomer business owners with the best opportunity they may see for selling their businesses at a good valuation. For good companies in many industries, earnings have in fact recovered significantly. In favored sectors such as aerospace manufacturing and various technology disciplines, buyers are willing to pay multiples for top performers that compare favorably with those of the mid 2000s when large middle market firms routinely saw offers in high single-digit or even double digit multiples of EBITDA.
Memories … read the rest
Posted on August 23, 2012
Everyone loves small business.
At least that's what the politicians want you to believe.
The reality is different. Small business is under attack from every quarter. Government policies favor large banks and large multinational businesses. Credit is tight and the banks favor the larger borrowers. Increased regulations stifle innovation and protect large incumbents that can afford teams of lawyers and lobbyists.
What's the little guy to do? Waiting for the politicians to change the system is wishful thinking. Smart business people find ways to prosper in every environment.

And the current environment is not great for small firms. The Federal Reserve Senior Loan Officer survey has recently confirmed what we have suspected for some time: banks have been more generous in easing underwriting requirements for larger companies than they have been for smaller companies. Paynet, which maintains data on 17 million small business loans, reports that lending conditions for small firms have deteriorated in recent months after two years of bounce back from the 2009 bottom.  For additional details go to the full article on Capital Matters.

Financial Market Risk
And there's a risk that things could get a lot worse for businesses that don't tie down their financing soon.  We just published an article on Seeking Alpha that has received a great deal of attention with more than 14,400 page views so far. Our thesis is that the Fed's zero interest rate policy has led to a situation where longer term treasury bonds are trading at yield levels that provide a spread to inflation far below the historical norms. Markets eventually return to their mean and often overshoot it so there is growing risk in the longer term debt market. Our concern is two-fold. First, that individual investors need to be aware of the potential impact of this return to the mean … read the rest
Posted on June 12, 2012
America needs jobs!   That's a point where there is universal agreement among the political parties.  So much so that Congress overwhelmingly passed the Jumpstart Our Business Startups (JOBS) Act; 390 to 23 in the House and 73 to 26 in the Senate.  My suspicion is the most of those voting for the Act had little idea of how far-reaching the effects of the JOBS Act might be.
The JOBS Act may represent the most radical change in how securities can be privately sold and business capital can be raised from private investors since the securities laws were passed in the 1930s.  Under the JOBS Act most of the restrictions with regard to solicitation that have impeded the growth of a vibrant private placement capital market among accredited investors (i.e. those with liquid net worth over $1 million or incomes over $200,000) have now been removed.
The devil is always in the details and SEC regulations promulgated under the Act could potentially curtail some of its impact.  As written, the JOBS Act has the potential to democratize the financing of business growth in a very dramatic and potentially unintended manner.  By removing many, if not most, of the restrictions on accredited investors seeking to invest in small companies, the JOBS Act provides a basis for many innovative new vehicles for small business financing to blossom.
While most of the commentary around the JOBS Act focuses on funding of startups, the real financing need is to support the expansion of the rapidly growing mid-sized companies that, according to the National Bureau of Economic Research, provide the engine for new jobs in America.  These companies typically have progressed past the startup stage.  They may have 20-50 employees and several million dollars of revenue, with the potential to grow to hundreds if not thousands of employees as … read the rest
Posted on January 26, 2012
Posted on January 24, 2012
Over the years one of the best indicators of M&A activity has been what I call the Free Lunch Index. I live in Memphis, normally not a hotbed of middle market M&A activity.  That's why my practice is national in scope.  When banks or private equity groups do come to town looking for deals, I often get a call for lunch, breakfast or coffee.
Since the crash in 2008 it's been fairly lonely out here and I pretty much buy my own lunches. Starting this month, however, I've seen a marked pickup in calls and lunch invitations.  The word appears to be out among both the private equity groups and the financial institutions that now is the time to get back into the market and they're actually spending money to look for deals.
Our experience at Focus indicates that business sale interest has increased strongly since yearend. Apparently we are not alone.  Cyprium Partners, a leading mezzanine financing specialist, recently completed a survey of 175 investment-banking firms throughout the U. S.  Among their findings, 44% of respondents reported more assignments signed or in the market than at a comparable time in 2010.  56% reported that new business pitches were up and less than 10% of the firms reported lower activity.  Bottom line the M&A business is improving and that's consistent with our belief that the overall economy will surprise to the upside.
It's no secret that the U. S. private equity industry has been in a depression over the past three years.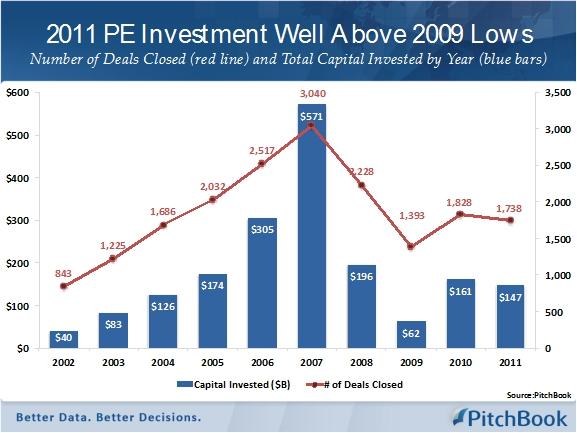 Source: Pitchbook
Private equity deal flow showed great promise this time last year, but fell precipitously by the end of 2011.  Interestingly, according to Capital IQ, global aggregate annual deal flow in terms of number of transactions has been far more stable while dollar values have fluctuated widely.
Year                          # of  … read the rest
Posted on January 22, 2012
In January we are trained to predict the likely course of the coming year and more often than not we get it wrong. This year virtually everyone has had the same prediction: "We'll muddle along at around 2.5% growth unless something really bad happens and then all bets are off." The outliers tend to focus on the possibility that we are heading for a recession based in part on the negative call from the Economic Cycle Research Institute (ECRI). Yet some of the economic data is not cooperating with the doomsayers and our observations in the real world are that business for many of our clients is not all that bad and is in fact improving.
What if the pessimists are wrong and 2012 turns out to be a far more positive year for the economy than many are predicting? While the jury is still out, the data continues to improve in terms of employment and consumer spending.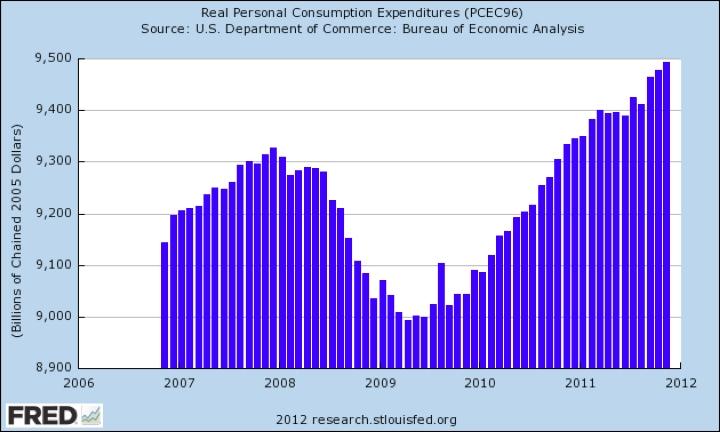 Credit to Hale Stewart who recently published this and a number of other charts supportive of a positive economic case on Seeking Alpha. What's the chance he could turn out to be right? Ignoring for the moment all the could go wrongs, what's the case for a far stronger 2012 than is currently being predicted?
1. Everyone wants things to get better. This is not trivial. After four years of depression, everyone longs for the good old days. 2012 is predicted to be the best year since 2007 for the travel industry. What happens if Americans who have been accumulating dry powder for the past four years suddenly loosen their purse strings?
2. The Fed is committed to a massive and continuing program of monetizing the massive deficits the federal government continues to run. As we wrote recently, this has created a huge overhang of … read the rest
Posted on April 4, 2011
John Gabbert has a unique view of the private equity industry.  As CEO of Pitchbook, he has access to the most intuitive and complete data source for transactions and investors throughout the multi-trillion dollar private equity industry.  We interviewed John from his offices on the Seattle waterfront.  You'll enjoy the unique environment in which John and his team work, right next to the docks where the tourist boats depart for Puget Sound.  No wonder Seattle has so many entrepreneurs;  in a place like that its hard to define what they do as "work".
(click on graph to enlarge)
Overall the interview provides a pretty optimistic view for the M&A market.  The private equity overhang (capital available for investment) remains quite large at approximately $490 billion.
a
a
a

(click on graph to enlarge)
John reports signs of increasing deal activity as the PEGs put some of this money to work.  Most interesting are his insights on the impact of the deal slowdown on PE portfolios.  Per the slide to the left average PE hold periods have lengthened substantially from around three and a half years in 2007 to over five years today.
a
a
These extended holding periods will likely have a negative impact on compound return rates for some firms.  Equally important they have created a very significant activity overhang for PE firms, which must begin to increase their rate of portfolio exits as funds begin to reach their targeted lives, often seven years or so.
(click on graph to enlarge)a
a
To download the slide deck (9 megs) click here.
For the full interview (23 minutes), click on John's picture below.
Posted on March 21, 2011
Doug Rodgers, CEO of Focus LLC publishes an annual update on the M&A market.  You can download this year's version here.  We've interviewed Doug to get his views on the current M&A market.
The most interesting take-away from the study is that, while M&A activity in larger companies collapsed during the financial crisis, sales of $50 million and under revenue companies declined far less in comparison.
a
a
a
(click on image to enlarge)
There was, however, a severe decline in EBITDA multiples for under $50 million companies (shown in blue) from 8x to 6x from 2008 to 2009.  This drop was fully recovered in 2010, though we are still well below the all-time peak of 9x in 2005.
(click on image to enlarge)
From our perspective, this indicates that business owners tend to react more to their personal situations and opportunities, rather than carefully planning their business exits.  This can have profound implications to sellers in a market where the variance in sales multiples was fifty percent from the low in 2009 to the high in 2005: sale in a strong market can result in much more satisfactory results for the seller.
To download the report click here.
To hear the full interview click on Doug's picture below.
Posted on February 8, 2011

It has become increasingly clear that many large  enterprises are not very good at innovation.  The chart below, courtesy of Robert Ackerman, Founder of Allegis Capital, in the February 2011 issue of Global Corporate Venturing, shows that the share of U. S. Industrial R&D investment of corporations with 25,000 or more employees declined from 70.7% in 1981 to 37.6% in 2005.  During the same period the R&D share of companies with 1000 or fewer employees increased from 4.4% to 24.1%.
This clearly supports the primary Capital Matters theme that future jobs growth will come from small and medium sized privately held businesses.  But where will the capital come from to fund these businesses?
James Mawson has created an innovative new publication called Global Corporate Venturing which is built on two theses which may help answer this question.  Mawson believes that global corporations have learned that smaller companies have advantages in innovation.  He sees this knowledge playing out in two related trends:
Even with today's resurgence, IPO markets are a dim reflection of past glories.  As a result both venture capitalists and private equity firms increasingly recognize that they must depend on acquisitions of portfolio companies by larger strategic firms as the only realistic exit for most investments.  Increasingly strategic investment/acquisition has become a critical element in such firms' growth paths as these larger entities control customer bases critical to the smaller firms' success.
The larger strategic entities are increasingly investing in early stage entities, often through formal internal venture capital organizations, to provide a window into new technologies and access to entrepreneurial talent.
Mawson estimates that there are now over 500 corporate venture capital organizations around the world.  The largest of these, Intel Corporations venture capital arm, invests $1 billion per year in smaller firms.  And the pace appears to be accelerating; … read the rest
Posted on February 4, 2011
In the linked interview below George Shea, Partner and Information Technology Team Leader at Focus LLC, provides an update on the strong market in information technology deals.  George shares a growing willingness in the Private Equity industry for firms to go beyond their traditional buyout structures to fund recaps that take out earlier stage investors and provide growth equity for their portfolio companies.  This can be a superior option to strategic sales for management teams that want to keep control of their operations.  Additionally George has found an increased willingness among the PE community to consider minority growth equity transactions and other innovative financing options for rapidly growing firms.
To see a the interview, click on the picture or link below:
http://proclaim.netbriefings.com/flv/focusbankers/ko168/focusbankeko168100468/