Posted on April 3, 2017
Fear stalks the land.  The Robot Apocalypse is nigh, destined to steal our jobs and our future.  Worse yet the machines are made elsewhere (Germany, Japan, even China) and America is being left behind in the race for manufacturing prowess.
We've heard this story before.  In the late 1980s, the U. S. computer memory industry had been decimated by Japanese and Korean competition.  To the Cassandras, this meant that the U.S. had forever lost the global economic race and was destined to become a second-rate power.
Nothing could have been further from the truth.  The prerequisites for U.S. global dominance of the technology world were already in place.  Within a few years, U.S. prowess in personal computers, microprocessors, and digital networking would lead to a capital investment boom and a stock market bubble not experienced since the 1920s.  Stock market fluctuations notwithstanding, the global growth of the Internet has not abated since.
For all its impact, the Internet has touched only a relatively small portion of human existence, focused primarily on media, entertainment, telecom and more recently retailing and finance.  The larger world in which we live, the world of things and physical interactions has, until now, been only lightly touched.  But that is going to change – and change in a huge way.
Imagine Amazon on Steroids
The world of digital automation is at the same stage as the internet in 1993, when the Mosaic browser was introduced and we first discovered the wonders of the World Wide Web.  The technologies are in place for a boom that will transform the global economy and, in the process, create new opportunities for better jobs and better lives.  And once again the U.S. is asserting its leadership role in developing the critical technologies.
Today Amazon utilizes highly advanced predictive analytics and automation tools that plan … read the rest
Posted on August 26, 2013
Q4-2012 was a heady time for the M&A business and almost every observer of the industry expected 2013 to be the year the deals business broke out of its five year post financial crisis funk. Best laid plans and all that — the low level of deal activity that has occurred to date in 2013 has both surprised and disappointed most industry participants.  Yet there are signs that this could change.
During H1-2013, deal volume fell off significantly, reflecting a cleared pipeline after the year end burst.  Fortune reported that global M&A announcements for Q2-2013 were the slowest since Q3-2009.  The U. S. market fared comparatively better, with the dollar value of announced deals up 34% year to year in H1 2013.  European activity on the other hand collapsed 43% with the Euro crisis and continental recession still in full swing at the time.  Even the relatively high level of U. S. activity depended in great part on the announcement of two large deals (Heinz and Dell) at the beginning of the year.  Without those announcements the U. S. market would have appeared lackluster at best.
The middle market companies we represent depend on both strategic and private equity buyers for business exits.  Most M&A industry observers believe that bulging corporate coffers and slow, organic growth will eventually dictate a strong increase in strategic M&A activity.  With the exception of a few target sectors, particularly IT related businesses, this corporate gold rush has yet to materialize.  As a result, private equity will be a more important source of buyside demand, at least for the near future.
PitchBook publishes a comprehensive analysis of U. S. private equity activity. Their first-half summary tells the story:
"Dealmakers were optimistic heading into 2013, anticipating one of the most active years for private equity (PE) investment since the financial … read the rest
Posted on August 23, 2012
Everyone loves small business.
At least that's what the politicians want you to believe.
The reality is different. Small business is under attack from every quarter. Government policies favor large banks and large multinational businesses. Credit is tight and the banks favor the larger borrowers. Increased regulations stifle innovation and protect large incumbents that can afford teams of lawyers and lobbyists.
What's the little guy to do? Waiting for the politicians to change the system is wishful thinking. Smart business people find ways to prosper in every environment.

And the current environment is not great for small firms. The Federal Reserve Senior Loan Officer survey has recently confirmed what we have suspected for some time: banks have been more generous in easing underwriting requirements for larger companies than they have been for smaller companies. Paynet, which maintains data on 17 million small business loans, reports that lending conditions for small firms have deteriorated in recent months after two years of bounce back from the 2009 bottom.  For additional details go to the full article on Capital Matters.

Financial Market Risk
And there's a risk that things could get a lot worse for businesses that don't tie down their financing soon.  We just published an article on Seeking Alpha that has received a great deal of attention with more than 14,400 page views so far. Our thesis is that the Fed's zero interest rate policy has led to a situation where longer term treasury bonds are trading at yield levels that provide a spread to inflation far below the historical norms. Markets eventually return to their mean and often overshoot it so there is growing risk in the longer term debt market. Our concern is two-fold. First, that individual investors need to be aware of the potential impact of this return to the mean … read the rest
Posted on January 26, 2012
Posted on January 24, 2012
Over the years one of the best indicators of M&A activity has been what I call the Free Lunch Index. I live in Memphis, normally not a hotbed of middle market M&A activity.  That's why my practice is national in scope.  When banks or private equity groups do come to town looking for deals, I often get a call for lunch, breakfast or coffee.
Since the crash in 2008 it's been fairly lonely out here and I pretty much buy my own lunches. Starting this month, however, I've seen a marked pickup in calls and lunch invitations.  The word appears to be out among both the private equity groups and the financial institutions that now is the time to get back into the market and they're actually spending money to look for deals.
Our experience at Focus indicates that business sale interest has increased strongly since yearend. Apparently we are not alone.  Cyprium Partners, a leading mezzanine financing specialist, recently completed a survey of 175 investment-banking firms throughout the U. S.  Among their findings, 44% of respondents reported more assignments signed or in the market than at a comparable time in 2010.  56% reported that new business pitches were up and less than 10% of the firms reported lower activity.  Bottom line the M&A business is improving and that's consistent with our belief that the overall economy will surprise to the upside.
It's no secret that the U. S. private equity industry has been in a depression over the past three years.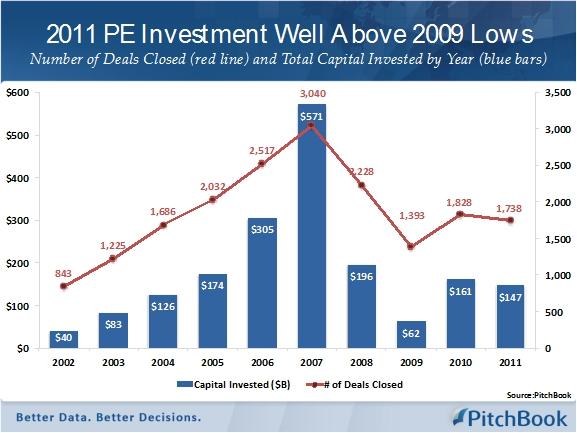 Source: Pitchbook
Private equity deal flow showed great promise this time last year, but fell precipitously by the end of 2011.  Interestingly, according to Capital IQ, global aggregate annual deal flow in terms of number of transactions has been far more stable while dollar values have fluctuated widely.
Year                          # of  … read the rest
Posted on April 4, 2011
John Gabbert has a unique view of the private equity industry.  As CEO of Pitchbook, he has access to the most intuitive and complete data source for transactions and investors throughout the multi-trillion dollar private equity industry.  We interviewed John from his offices on the Seattle waterfront.  You'll enjoy the unique environment in which John and his team work, right next to the docks where the tourist boats depart for Puget Sound.  No wonder Seattle has so many entrepreneurs;  in a place like that its hard to define what they do as "work".
(click on graph to enlarge)
Overall the interview provides a pretty optimistic view for the M&A market.  The private equity overhang (capital available for investment) remains quite large at approximately $490 billion.
a
a
a

(click on graph to enlarge)
John reports signs of increasing deal activity as the PEGs put some of this money to work.  Most interesting are his insights on the impact of the deal slowdown on PE portfolios.  Per the slide to the left average PE hold periods have lengthened substantially from around three and a half years in 2007 to over five years today.
a
a
These extended holding periods will likely have a negative impact on compound return rates for some firms.  Equally important they have created a very significant activity overhang for PE firms, which must begin to increase their rate of portfolio exits as funds begin to reach their targeted lives, often seven years or so.
(click on graph to enlarge)a
a
To download the slide deck (9 megs) click here.
For the full interview (23 minutes), click on John's picture below.
Posted on March 21, 2011
Doug Rodgers, CEO of Focus LLC publishes an annual update on the M&A market.  You can download this year's version here.  We've interviewed Doug to get his views on the current M&A market.
The most interesting take-away from the study is that, while M&A activity in larger companies collapsed during the financial crisis, sales of $50 million and under revenue companies declined far less in comparison.
a
a
a
(click on image to enlarge)
There was, however, a severe decline in EBITDA multiples for under $50 million companies (shown in blue) from 8x to 6x from 2008 to 2009.  This drop was fully recovered in 2010, though we are still well below the all-time peak of 9x in 2005.
(click on image to enlarge)
From our perspective, this indicates that business owners tend to react more to their personal situations and opportunities, rather than carefully planning their business exits.  This can have profound implications to sellers in a market where the variance in sales multiples was fifty percent from the low in 2009 to the high in 2005: sale in a strong market can result in much more satisfactory results for the seller.
To download the report click here.
To hear the full interview click on Doug's picture below.
Posted on February 8, 2011

It has become increasingly clear that many large  enterprises are not very good at innovation.  The chart below, courtesy of Robert Ackerman, Founder of Allegis Capital, in the February 2011 issue of Global Corporate Venturing, shows that the share of U. S. Industrial R&D investment of corporations with 25,000 or more employees declined from 70.7% in 1981 to 37.6% in 2005.  During the same period the R&D share of companies with 1000 or fewer employees increased from 4.4% to 24.1%.
This clearly supports the primary Capital Matters theme that future jobs growth will come from small and medium sized privately held businesses.  But where will the capital come from to fund these businesses?
James Mawson has created an innovative new publication called Global Corporate Venturing which is built on two theses which may help answer this question.  Mawson believes that global corporations have learned that smaller companies have advantages in innovation.  He sees this knowledge playing out in two related trends:
Even with today's resurgence, IPO markets are a dim reflection of past glories.  As a result both venture capitalists and private equity firms increasingly recognize that they must depend on acquisitions of portfolio companies by larger strategic firms as the only realistic exit for most investments.  Increasingly strategic investment/acquisition has become a critical element in such firms' growth paths as these larger entities control customer bases critical to the smaller firms' success.
The larger strategic entities are increasingly investing in early stage entities, often through formal internal venture capital organizations, to provide a window into new technologies and access to entrepreneurial talent.
Mawson estimates that there are now over 500 corporate venture capital organizations around the world.  The largest of these, Intel Corporations venture capital arm, invests $1 billion per year in smaller firms.  And the pace appears to be accelerating; … read the rest
Posted on February 4, 2011
In the linked interview below George Shea, Partner and Information Technology Team Leader at Focus LLC, provides an update on the strong market in information technology deals.  George shares a growing willingness in the Private Equity industry for firms to go beyond their traditional buyout structures to fund recaps that take out earlier stage investors and provide growth equity for their portfolio companies.  This can be a superior option to strategic sales for management teams that want to keep control of their operations.  Additionally George has found an increased willingness among the PE community to consider minority growth equity transactions and other innovative financing options for rapidly growing firms.
To see a the interview, click on the picture or link below:
http://proclaim.netbriefings.com/flv/focusbankers/ko168/focusbankeko168100468/
Posted on February 4, 2011
When I first started in the M&A business there were a few hundred private equity firms in the U. S. and virtually none overseas.  Getting to know them was relatively easy.  Today there are literally thousands of PE firms in the U. S., hundreds, if not thousands  in Europe, and a rapidly growing complement of Asian and middle eastern PE firms focused on the emerging market countries. Picking the perfect candidate to acquire or invest in any particular lower middle market company has become an overwhelming challenge for intermediaries focused on a good 'ole boy Rolodex approach to the M&A business.
AxialMarket (www.axialmarket.com) was created to fill that gap.  Axial provides an online marketplace populated by more than 1500 intermediary firms and thousands of PE firms, strategic buyers, family offices, venture capitalists and other qualified private market participants who use Axial's controlled, trusted marketplace to confidentially source and manage a pipeline of transaction opportunities across the private markets.  Pre-qualified intermediaries have the opportunity to post blind listings of companies for sale or needing financing or recapitalization.  On the buyside PE firms as well as strategic buyers pay monthly subscription fees to have access to thousands of qualified listings.  Axial uses its sophisticated SaaS database to pre-select those buyside firms most likely to be interested in a particular deal.  These firms are then presented to the intermediary for consideration and only approved buyers are permitted to see the deal summaries.  The bottom line is that deals are getting down; more than three thousand business sales, including companies with revenues from $1 million to $400 million have been completed utilizing Axial listings since its inception.
Today we are pleased to have with us Peter Lehrman, the driving force behind AxialMarket.  Highlights of Peter's interview (4 1/2 minutes) as well as the full interview (about 30 … read the rest