Posted on October 3, 2017
Recently my colleague Marco Chan shared an extraordinary story that puts a new slant on the public discussion about robotics, China, outsourcing and the future of jobs.  According to this Bloomberg Business Week story,  a Chinese manufacturer, Tianyuan Garments Co., is investing $20 million to open a plant in Little Rock that will utilize robots developed by a Georgia company, Software Automation, to manufacture T-Shirts at a cost of 33 cents per shirt.  Each SEWBOT™ workline is capable of spitting out a T-Shirt every 26 seconds.  Human workers don't stand a chance against such competition, no matter how low a wage rate they are willing to accept.
We're in a period of profound change as digital technologies promise to transform virtually every industry globally.  In manufacturing this rapidly accelerating transformation will impact employers and employees alike.  PWC recently estimated that 38% of U.S. jobs could be taken by robots by 2030.  Futurists like Martin Ford and even well-known industrialists like Elon Musk have begun to argue that we need to consider adoption of a Universal Basic Income to address a world in which machines and artificial intelligence have replaced human beings in a large part of the economy.
For those that fear the consequences of automation, the connection has been broken between technological advance and the creation of new higher skilled jobs categories to replace the old lower skilled jobs.  I have more confidence that a dynamic economy will continue to provide opportunities for our citizens, creating currently unimaginable job categories for those willing and able to adapt.  Lifetime learning has become a survival skill in our society, opening up new business opportunities in education and training and likely creating hundreds of thousands of jobs in the process.
At the FOCUS Investment Banking Advanced Manufacturing & Automation Team we spend our time addressing … read the rest
Posted on September 23, 2014
In the next ten years, technology will transform virtually every industry in the world.  There will be big winners and big losers. In order to stay competitive, middle market business owners must preempt these changes to their competitive positions and sustainability with smart timely action.  Just look at the newspaper publishing industry to see how dramatic the impact can be.
Is the middle market M&A industry exempt from the winds of change?  My partners would answer that this is a people business: nothing happens until someone makes a sale.  That's clearly right.  Bringing the sale of entrepreneurial business to a successful close involves far more than numbers; human emotions often overrule financial logic.  An understanding of psychology is as essential to the success of an intermediary as auctioneering and financial analysis.
The role of the deal professional will not disappear.  Nevertheless, the way he or she applies professional skills to reach the ultimate goal of the transaction will be dramatically shaped by the technological revolution now underway in our industry.  The successful investment banking firm of the next decade should have access to resources unimaginable to today's practitioners.  In addition to great people skills and financial knowledge, investment bankers will need to be adept at using numerous advanced technologies that will eliminate a great deal of drudgery and  that will also accelerate the speed of transaction processes.  In that hypercharged environment, the race may well go to the swiftest practitioners with access to the best of data and toolsets.
When I started my investment banking firm in 1985, the most advanced technology was my Compaq luggable (38 pound) computer and a magical program that enabled me to produce both written documents and spreadsheets from a single device.  Over time we added desktop computers, a Microsoft network and access to quarterly CD-ROMs with data about … read the rest
Posted on August 26, 2014
You've got to know when to hold 'em
Know when to fold 'em
Know when to walk away
Know when to run
You never count your money
When you're sittin' at the table
There'll be time enough for countin'
When the dealin's done
If you're a Baby Boomer, you remember well hearing Kenny Rogers' iconic hit, The Gambler.  If you're like me, you've often wondered how Kenny's advice might be applied to important business and investment decisions.  If you're a business owner who has survived our generation's version of the Great Depression, you need good counsel more than ever.
Perhaps you're feeling pretty good about your prospects – business is improving and profits are as high as you've ever enjoyed.  Is now the time to go all in? Or is it time to cash your chips and leave the table for new faces?  The story below presents a dilemma faced by many business owners.  Names, industry identifiers and other client specific facts have been changed to protect confidentiality, but the dilemma described below is all too real and immediate for many business owners.
Our friend Frank Mayfield (not his real name) recently approached us with a dilemma.  Frank founded Limbtronics, a medical device manufacturer, thirty years ago to provide leading orthopedic doctors with specialized tools for performing innovative surgeries on damaged joints and ligaments.  Over time, he expanded into manufacturing surgical implants for complete joint replacements.  The business has been good to Frank and in 2013 Limbtronics had a record year with revenue of $28 million and pretax profits of more than $5 million.
Over the past fifteen years, Frank has seen several of his competitors acquired by global orthopedic giants such as Medtronic, Stryker, Smith and Nephew, and others.  He's been approached a number of times, but never felt the time was … read the rest
Posted on December 2, 2012
Click on Image Below to Watch Video
Entrepreneurial companies must now consider a new regulatory risk when raising money for their businesses or negotiating an M&A transaction.  Payment of finder's fees to unregistered brokers could lead to corporate bankruptcy.  It did so recently for a small biotech firm, Neogenix Oncology, Inc.
Federal and state laws mandate that professionals who arrange/negotiate capital investment or merger and acquisition transactions for a fee based on the success of their efforts must be registered as securities professionals.  I decided when I got into the investment banking business in 1982 that, as expensive and time consuming as regulatory compliance might be, I would have to be registered.  Our firm has chosen to incorporate its own broker dealer, but there are other options open to investment banking professionals.
It's long been an open secret that some or perhaps even many business advisors have chosen a different path and raise money or negotiate M&A deals without registration.  For many smaller intermediary firms, this has not posed a problem.  Either their activities have not been noticed by the regulators or they are too small for anyone to care.
It now appears that the SEC may be using another approach to assure compliance – turn the accountants and lawyers into its policemen.  In October 2011 Neogenix received a letter from the SEC requesting that the company "provide certain information relating to payments made to third parties (referred to as "finders' fees") in connection with the sales of the Company's common stock".  Following up on the SEC inquiry Neogenix pursued an internal investigation and reported in its 10-K filed July 12, 2012.
"….. finders' fees were paid to individuals and entities whom the Company has not been able to confirm were registered as broker-dealers or otherwise properly licensed under applicable state law to participate … read the rest
Posted on October 15, 2012
Abe Garver, a Focus LLC Principal and a frequent contributor to Forbes, Seeking Alpha and other publications, was featured recently on Bloomberg TV with a big call on the Internet Retail Sector.  Abe is well know for his coverage of the sector and was one of the first commentators to focus on the impending imposition of state sales taxes on Internet retail transactions that were formerly tax free.
Click on photo above to view video.
Posted on January 26, 2012
Posted on January 24, 2012
Over the years one of the best indicators of M&A activity has been what I call the Free Lunch Index. I live in Memphis, normally not a hotbed of middle market M&A activity.  That's why my practice is national in scope.  When banks or private equity groups do come to town looking for deals, I often get a call for lunch, breakfast or coffee.
Since the crash in 2008 it's been fairly lonely out here and I pretty much buy my own lunches. Starting this month, however, I've seen a marked pickup in calls and lunch invitations.  The word appears to be out among both the private equity groups and the financial institutions that now is the time to get back into the market and they're actually spending money to look for deals.
Our experience at Focus indicates that business sale interest has increased strongly since yearend. Apparently we are not alone.  Cyprium Partners, a leading mezzanine financing specialist, recently completed a survey of 175 investment-banking firms throughout the U. S.  Among their findings, 44% of respondents reported more assignments signed or in the market than at a comparable time in 2010.  56% reported that new business pitches were up and less than 10% of the firms reported lower activity.  Bottom line the M&A business is improving and that's consistent with our belief that the overall economy will surprise to the upside.
It's no secret that the U. S. private equity industry has been in a depression over the past three years.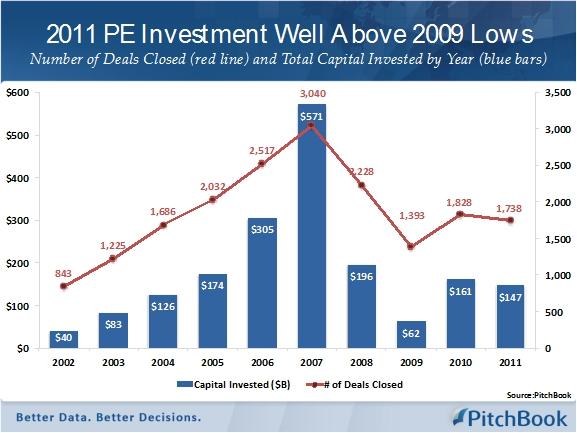 Source: Pitchbook
Private equity deal flow showed great promise this time last year, but fell precipitously by the end of 2011.  Interestingly, according to Capital IQ, global aggregate annual deal flow in terms of number of transactions has been far more stable while dollar values have fluctuated widely.
Year                          # of  … read the rest
Posted on January 23, 2012
Newt Gingrich and Bill Clinton are quick to remind us that twenty years ago they lifted America from the depths of recession, initiating an unprecedented period of prosperity, jobs growth and balanced budgets. Sounds nice, but what if the America of today bears a closer relationship to 1972 than 1992?
In January 1972 America was a bit over a year past the recession of 1969-1970. We had spent much of the prior decade mired in increasingly unpopular wars that had placed a huge drain on the nation's financial resources and we were headed toward a messy exit from our Asian adventure. The Democratic Party was so ideologically divided that it was preparing to nominate George McGovern as its presidential candidate and thus give a resounding second term victory to Richard Nixon. After hitting an all time high of just under 1000 in 1968, the Dow Jones Industrials had experienced a sharp drop during 1969-1970 recession, but had since rallied back to near its highs and was poised to continue to rise into the election season.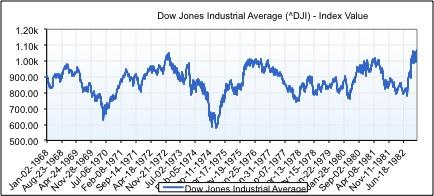 Source: Capital IQ
On the monetary front the U. S. had been engaged in a period of what we would now call quantitative easing, funding debts incurred in the Vietnam War through the printing of new money. M2 had grown 12% in 1971 and was poised to grow another 12% in 1972. As a result the U. S. was running a then unheard of balance of payments deficit and had been forced off the gold standard in August of 1971.
Subsequent events certainly did not turn out well for the U. S. While inflation remained comparatively mild in 1972 at 3.7% for the year, the rate of price growth jumped to 6% by the end of 1973 and 11% in 1974. The ensuing recession of 1973-1975 was comparable in … read the rest
Posted on November 14, 2011
Remember the fall of 2009? We had just survived the worst financial crisis since the Great Depression and the stock market was enjoying the early stages of a very powerful bear market rally. We could all breathe a great sigh of relief. Of course a few party poopers were still around to remind us in articles like this one published by the Wharton School that a mountain of debt built up during the bubble years of 2006 and 2007 would need to be refinanced by the middle of the next decade. This debt, measured in the trillions of dollars, encompassed both commercial loans–many generated to support highly leveraged buyout financings–and commercial real estate funding.


Source: Ancala.com
No need to worry, 2012 was a long way in the future. Well that future is now and Wall Street is again teetering on the brink of panic. Many firms that survived the crash have seen their profits–if not their revenues–return to past highs. Large profitable corporations have successfully refinanced much of their debt with very low cost long term bonds. For much of 2010 and the first half of 2011, strong high yield and leveraged loan markets enabled even middle market firms to stabilize their debt with relatively low cost funding as well. So the question is, "Have we dodged the bullet?"
Unfortunately, two recent reports answer the question with a resounding NO. The Financial Times, in an article entitled "Door Slams Shut for Corporate Have-Nots," describes a two tier world in which a few very strong companies like Apple Inc. have taken advantage of the recovery to build up tremendous hordes of cash. On the other hand, weaker firms remain overleveraged and at extreme risk in the event of another financial crisis or a material rise in interest rates.
To accentuate the depth of … read the rest
Posted on June 26, 2009
As I write this, summer has officially begun with 100° plus days to prove it.  The past two summers have not been kind to the financial markets.  The collapse of the leveraged loan market in August 2007 marked the beginning of the current financial crisis and July of last year witnessed the initial low for collapsing bank stocks, setting the stage for much more dramatic pain in the fall.  I'm not predicting any surprises for this summer, just suggesting that we're in the witching hour and should all be on the lookout for things that go bump in the night.
The jury's still out on the shape of the recovery.  I have been expecting a W shaped recession, with economic strength appearing later in the summer to be followed by another step backwards toward the end of 2009 or sometime in 2010, as the impact of the financial stimulus wears off.  Recent events have increased my concern that the economic trajectory in coming months could look more like a landing between two flights of stairs on the way down.  There's lots of reason to think that the decline is leveling out, but much less reason to expect a strong upturn.  Consumer credit is just too weak and, with many consumer balance sheets irreparably broken and consumer credit standards showing no signs of easing, it's hard to see what will serve as the engine for growth.  At this point I'd be pretty happy with an L-shaped recovery in which we maintain something like current activity levels (perhaps after a short bounce off the bottom) while balance sheets are given time to recover.
For a good overview of the current condition of the real economy I suggest this article by Steven Hansen in Seeking Alpha.  Bottom line is that the economy is still in decline, … read the rest