Posted on June 12, 2012
America needs jobs!   That's a point where there is universal agreement among the political parties.  So much so that Congress overwhelmingly passed the Jumpstart Our Business Startups (JOBS) Act; 390 to 23 in the House and 73 to 26 in the Senate.  My suspicion is the most of those voting for the Act had little idea of how far-reaching the effects of the JOBS Act might be.
The JOBS Act may represent the most radical change in how securities can be privately sold and business capital can be raised from private investors since the securities laws were passed in the 1930s.  Under the JOBS Act most of the restrictions with regard to solicitation that have impeded the growth of a vibrant private placement capital market among accredited investors (i.e. those with liquid net worth over $1 million or incomes over $200,000) have now been removed.
The devil is always in the details and SEC regulations promulgated under the Act could potentially curtail some of its impact.  As written, the JOBS Act has the potential to democratize the financing of business growth in a very dramatic and potentially unintended manner.  By removing many, if not most, of the restrictions on accredited investors seeking to invest in small companies, the JOBS Act provides a basis for many innovative new vehicles for small business financing to blossom.
While most of the commentary around the JOBS Act focuses on funding of startups, the real financing need is to support the expansion of the rapidly growing mid-sized companies that, according to the National Bureau of Economic Research, provide the engine for new jobs in America.  These companies typically have progressed past the startup stage.  They may have 20-50 employees and several million dollars of revenue, with the potential to grow to hundreds if not thousands of employees as … read the rest
Posted on January 24, 2012
Over the years one of the best indicators of M&A activity has been what I call the Free Lunch Index. I live in Memphis, normally not a hotbed of middle market M&A activity.  That's why my practice is national in scope.  When banks or private equity groups do come to town looking for deals, I often get a call for lunch, breakfast or coffee.
Since the crash in 2008 it's been fairly lonely out here and I pretty much buy my own lunches. Starting this month, however, I've seen a marked pickup in calls and lunch invitations.  The word appears to be out among both the private equity groups and the financial institutions that now is the time to get back into the market and they're actually spending money to look for deals.
Our experience at Focus indicates that business sale interest has increased strongly since yearend. Apparently we are not alone.  Cyprium Partners, a leading mezzanine financing specialist, recently completed a survey of 175 investment-banking firms throughout the U. S.  Among their findings, 44% of respondents reported more assignments signed or in the market than at a comparable time in 2010.  56% reported that new business pitches were up and less than 10% of the firms reported lower activity.  Bottom line the M&A business is improving and that's consistent with our belief that the overall economy will surprise to the upside.
It's no secret that the U. S. private equity industry has been in a depression over the past three years.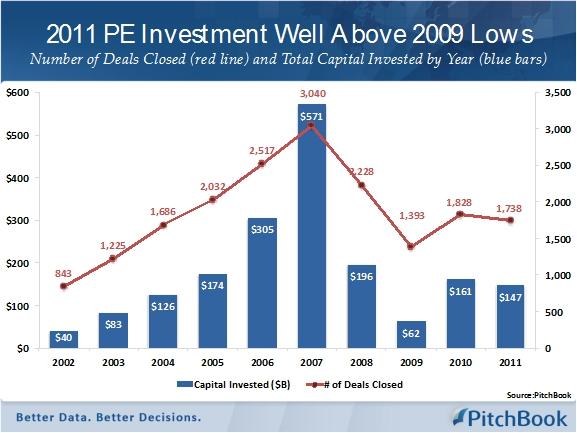 Source: Pitchbook
Private equity deal flow showed great promise this time last year, but fell precipitously by the end of 2011.  Interestingly, according to Capital IQ, global aggregate annual deal flow in terms of number of transactions has been far more stable while dollar values have fluctuated widely.
Year                          # of  … read the rest
Posted on November 14, 2011
Remember the fall of 2009? We had just survived the worst financial crisis since the Great Depression and the stock market was enjoying the early stages of a very powerful bear market rally. We could all breathe a great sigh of relief. Of course a few party poopers were still around to remind us in articles like this one published by the Wharton School that a mountain of debt built up during the bubble years of 2006 and 2007 would need to be refinanced by the middle of the next decade. This debt, measured in the trillions of dollars, encompassed both commercial loans–many generated to support highly leveraged buyout financings–and commercial real estate funding.


Source: Ancala.com
No need to worry, 2012 was a long way in the future. Well that future is now and Wall Street is again teetering on the brink of panic. Many firms that survived the crash have seen their profits–if not their revenues–return to past highs. Large profitable corporations have successfully refinanced much of their debt with very low cost long term bonds. For much of 2010 and the first half of 2011, strong high yield and leveraged loan markets enabled even middle market firms to stabilize their debt with relatively low cost funding as well. So the question is, "Have we dodged the bullet?"
Unfortunately, two recent reports answer the question with a resounding NO. The Financial Times, in an article entitled "Door Slams Shut for Corporate Have-Nots," describes a two tier world in which a few very strong companies like Apple Inc. have taken advantage of the recovery to build up tremendous hordes of cash. On the other hand, weaker firms remain overleveraged and at extreme risk in the event of another financial crisis or a material rise in interest rates.
To accentuate the depth of … read the rest
Posted on April 4, 2011
John Gabbert has a unique view of the private equity industry.  As CEO of Pitchbook, he has access to the most intuitive and complete data source for transactions and investors throughout the multi-trillion dollar private equity industry.  We interviewed John from his offices on the Seattle waterfront.  You'll enjoy the unique environment in which John and his team work, right next to the docks where the tourist boats depart for Puget Sound.  No wonder Seattle has so many entrepreneurs;  in a place like that its hard to define what they do as "work".
(click on graph to enlarge)
Overall the interview provides a pretty optimistic view for the M&A market.  The private equity overhang (capital available for investment) remains quite large at approximately $490 billion.
a
a
a

(click on graph to enlarge)
John reports signs of increasing deal activity as the PEGs put some of this money to work.  Most interesting are his insights on the impact of the deal slowdown on PE portfolios.  Per the slide to the left average PE hold periods have lengthened substantially from around three and a half years in 2007 to over five years today.
a
a
These extended holding periods will likely have a negative impact on compound return rates for some firms.  Equally important they have created a very significant activity overhang for PE firms, which must begin to increase their rate of portfolio exits as funds begin to reach their targeted lives, often seven years or so.
(click on graph to enlarge)a
a
To download the slide deck (9 megs) click here.
For the full interview (23 minutes), click on John's picture below.
Posted on February 4, 2011
In the linked interview below George Shea, Partner and Information Technology Team Leader at Focus LLC, provides an update on the strong market in information technology deals.  George shares a growing willingness in the Private Equity industry for firms to go beyond their traditional buyout structures to fund recaps that take out earlier stage investors and provide growth equity for their portfolio companies.  This can be a superior option to strategic sales for management teams that want to keep control of their operations.  Additionally George has found an increased willingness among the PE community to consider minority growth equity transactions and other innovative financing options for rapidly growing firms.
To see a the interview, click on the picture or link below:
http://proclaim.netbriefings.com/flv/focusbankers/ko168/focusbankeko168100468/
Posted on January 2, 2011
Even the most casual observer of the current economic scene, knows that that there is something different about the way capital is being allocated in the American economy today.  Billie Holiday had it right in her classic, God Bless the Child, written in 1939 at the end of the Great Depression and updated for the Baby Boomer generation in 1968 with the great Blood Sweat and Tears version.
Them that's got shall get
Them that's not shall lose
So the Bible said and it still is news
Yes, the strong gets more While the weak ones fade Empty pockets don't ever make the grade Mama may have, Papa may have But God bless the child that's got his own.
.
A 2010 update could be speaking about the major multi-national corporations and big banks, which surely have their own and then some.  On the other hand "Main Street" private companies are more likely to relate to verse two, singing the blues refrain that "empty pockets don't ever make the grade".  Yet the data is irrefutable: jobs in America are created by small, growing firms, not by the corporate giants.  When the recovery comes, and it always does, where will the money come from to fund the growth of the companies that we're counting to create the jobs?
To answer that question the Tough Times blog has moved to Capital Matters.  Here we will focus on the critical financial issues that face Main Street American business in this new decade as economic conditions slowly begin to improve: Where will the money come from to support renewed growth?  We will cover topics of current interest to business owners and their advisers with a focus on economics and finance as they impact private and entrepreneurial firms.  We will also dive deep to provide practical insight … read the rest
Posted on January 1, 2011
.

Global M&A volume (closings) has recovered moderately from a low of $1.8 Trillion in 2009 or about half the market peak of $3.6 Trillion in 2007. We estimate 2010 volume around $2.3 Trillion, up around 28% from 2009.
Source Capital IQ; *2010 Focus Investment Banking Estimate
In the U. S. private equity activity continues to increase, with the likelihood that for the full year 2010 $ invested by PE firms will exceed $100 billion or approximately double the 2009 trough. This number is still down approximately 85% from the 2007 peak.
.
Source Pitchbook
.
Focus has seen a good recovery in M&A activity in 2010, with total closed M&A transactions expected at 12 for the year compared to 8 in 2009. More important, for consistently profitable companies in favored sectors (e.g. IT services and software) we have witnessed pricing multiples reminiscent of those at the peak. Weak companies battered by the recession on the other hand have had some difficulty getting traction in this market.
Recent activity leads us to believe that the recovery in deal activity will continue into 2011 and may gain strength. We have seen indications that PE firms, essentially absent from the market in 2009, are becoming more aggressive in their activities and more willing to look at firms outside the most popular sectors. This is driven in part by the record level of "dry powder" in the hands of PE firms, approaching $500 billion. At some point this money must be invested or given back to the limited partners.
.
Source: Pitchbook
Additionally we see continued strength among strategic buyers that have become quite active in a number of industries. With revenues stagnant in many cases, these firms must look to acquisitions to create the growth expected by equity market investors.