Posted on January 22, 2012
In January we are trained to predict the likely course of the coming year and more often than not we get it wrong. This year virtually everyone has had the same prediction: "We'll muddle along at around 2.5% growth unless something really bad happens and then all bets are off." The outliers tend to focus on the possibility that we are heading for a recession based in part on the negative call from the Economic Cycle Research Institute (ECRI). Yet some of the economic data is not cooperating with the doomsayers and our observations in the real world are that business for many of our clients is not all that bad and is in fact improving.
What if the pessimists are wrong and 2012 turns out to be a far more positive year for the economy than many are predicting? While the jury is still out, the data continues to improve in terms of employment and consumer spending.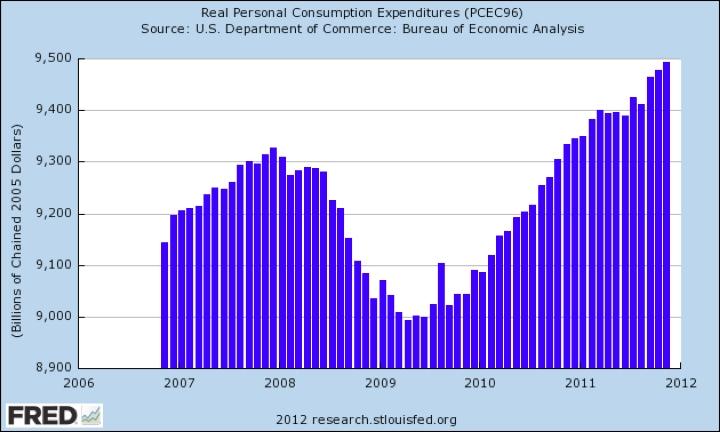 Credit to Hale Stewart who recently published this and a number of other charts supportive of a positive economic case on Seeking Alpha. What's the chance he could turn out to be right? Ignoring for the moment all the could go wrongs, what's the case for a far stronger 2012 than is currently being predicted?
1. Everyone wants things to get better. This is not trivial. After four years of depression, everyone longs for the good old days. 2012 is predicted to be the best year since 2007 for the travel industry. What happens if Americans who have been accumulating dry powder for the past four years suddenly loosen their purse strings?
2. The Fed is committed to a massive and continuing program of monetizing the massive deficits the federal government continues to run. As we wrote recently, this has created a huge overhang of … read the rest
Categories: Bank Credit, Bank Loans, Banks, Commercial Loans, Economic Growth, Economic Stimulus, Economics, Federal Reserve, Globalization, Inflation, M&A
Tags: Tags: Bank Loans, Bankruptcy, Banks, Business Sale, Economic Growth, Economics, Federal Reserve, Inflation, M&A, Mergers, QE3, Quantitative Easing
Permalink | | Comments Off on Could 2012 Surprise to the Upside?