Posted on December 5, 2017
Washington, DC (November 28, 2017) – The world is experiencing a period of unprecedented change as digital connectivity and automation pervade the physical universe of people and things. FOCUS Investment  Banking LLC formed the Advanced  Manufacturing  & AutomationTeam to provide merger, acquisition and capital raising services to businesses affected by this transformation and to support firms supplying the specific tools and technologies driving the innovations.
The FOCUS Advanced Manufacturing & Automation Team currently is pursuing transactions in industries ranging from robotics and industrial automation to autonomous commercial vehicles; from advanced photonics and optics to electronic component manufacturing; from machining and metal engineering to Ag Tech.
The FOCUS team is composed of 15 professionals, including investment bankers, senior advisors, and research analysts. Team members were selected for their deep vertical expertise as both C-Level executives and dealmakers in fields driving — and impacted by — automation. These areas include manufacturing, process automation, software systems, aerospace, defense, logistics, and medical devices and instrumentation. International transaction support is provided by FOCUS' global partner firms in M&A Worldwide.
For more information, contact John Slater, FOCUS Partner and Team Leader, FOCUS Advanced Manufacturing & Automation Team, at 901-684-1274 or John.slater@focusbankers.com.
About FOCUS Investment Banking LLC  
With more than three decades  of experience,  FOCUS Investment Banking is a trusted name in M&A advisory services worldwide.  FOCUS works to understand each client's strategic and financial objectives, craft the best plan to achieve these goals, and deliver success. Whether helping to sell, buy, or raise capital, FOCUS strives to maximize the value of every transaction to the benefit of its clients. Securities transactions  conducted  by FOCUS Securities LLC, an affiliated company, registered Broker Dealer member FINRA/SIPC. For more information on FOCUS, visit www.focusbankers.com/automation.
How to Fix 502 Bad Gateway Error in WordPress Easily
Posted on November 5, 2017
Written by John Slater
co-authored by Steven Hansen
We live in a time of great paradox. Technologies such as low cost renewable energy and automated production tools promise a world of abundance in which global poverty is abolished and human drudgery is eliminated. Yet even a casual glance at the daily news confronts us with a sense of dread that, far from Utopia, we are instead headed toward a dystopian future in which the benefits of technological advance will be reserved for a privileged few.
The disquieting consequence is that the bulk of humanity is relegated to scraping out a meager existence in a mean-spirited world where jobs (and the prosperity they bring) are reserved for a global elite trained to read the sacred texts of a new religion of technology.
Is the social contract of Western civilization, promising fair treatment and opportunity for all, which took root in 18th century England and France and flowered in the post WWII democracies, destined to fail? Just how will the world adapt to the current wave of technological advance which threatens the jobs of today's middle class much as Mr. McCormick's reaper drove earlier generations from the farms and into the factories of a prior era?
Econintersect has asked two contributors, John Slater and Steven Hansen, to discuss some aspects of this conundrum concerning how and where automation and robotics will impact the new economy and how social institutions, specifically education, can address these challenges.
---
John Slater is a Partner of FOCUS Investment Banking and Team Leader of the firm's AdvancedManufacturing and Automation practice, providing merger and acquisition and capital raising services primarily for private middle market companies. He is a Chartered Financial Analyst and holds an AB in economics from Princeton and a JD from the University of Virginia.
Steven Hansen, co-founder and Publisher of … read the rest
Posted on October 3, 2017
Recently my colleague Marco Chan shared an extraordinary story that puts a new slant on the public discussion about robotics, China, outsourcing and the future of jobs.  According to this Bloomberg Business Week story,  a Chinese manufacturer, Tianyuan Garments Co., is investing $20 million to open a plant in Little Rock that will utilize robots developed by a Georgia company, Software Automation, to manufacture T-Shirts at a cost of 33 cents per shirt.  Each SEWBOT™ workline is capable of spitting out a T-Shirt every 26 seconds.  Human workers don't stand a chance against such competition, no matter how low a wage rate they are willing to accept.
We're in a period of profound change as digital technologies promise to transform virtually every industry globally.  In manufacturing this rapidly accelerating transformation will impact employers and employees alike.  PWC recently estimated that 38% of U.S. jobs could be taken by robots by 2030.  Futurists like Martin Ford and even well-known industrialists like Elon Musk have begun to argue that we need to consider adoption of a Universal Basic Income to address a world in which machines and artificial intelligence have replaced human beings in a large part of the economy.
For those that fear the consequences of automation, the connection has been broken between technological advance and the creation of new higher skilled jobs categories to replace the old lower skilled jobs.  I have more confidence that a dynamic economy will continue to provide opportunities for our citizens, creating currently unimaginable job categories for those willing and able to adapt.  Lifetime learning has become a survival skill in our society, opening up new business opportunities in education and training and likely creating hundreds of thousands of jobs in the process.
At the FOCUS Investment Banking Advanced Manufacturing & Automation Team we spend our time addressing … read the rest
Posted on April 3, 2017
Fear stalks the land.  The Robot Apocalypse is nigh, destined to steal our jobs and our future.  Worse yet the machines are made elsewhere (Germany, Japan, even China) and America is being left behind in the race for manufacturing prowess.
We've heard this story before.  In the late 1980s, the U. S. computer memory industry had been decimated by Japanese and Korean competition.  To the Cassandras, this meant that the U.S. had forever lost the global economic race and was destined to become a second-rate power.
Nothing could have been further from the truth.  The prerequisites for U.S. global dominance of the technology world were already in place.  Within a few years, U.S. prowess in personal computers, microprocessors, and digital networking would lead to a capital investment boom and a stock market bubble not experienced since the 1920s.  Stock market fluctuations notwithstanding, the global growth of the Internet has not abated since.
For all its impact, the Internet has touched only a relatively small portion of human existence, focused primarily on media, entertainment, telecom and more recently retailing and finance.  The larger world in which we live, the world of things and physical interactions has, until now, been only lightly touched.  But that is going to change – and change in a huge way.
Imagine Amazon on Steroids
The world of digital automation is at the same stage as the internet in 1993, when the Mosaic browser was introduced and we first discovered the wonders of the World Wide Web.  The technologies are in place for a boom that will transform the global economy and, in the process, create new opportunities for better jobs and better lives.  And once again the U.S. is asserting its leadership role in developing the critical technologies.
Today Amazon utilizes highly advanced predictive analytics and automation tools that plan … read the rest
Posted on August 26, 2013
Q4-2012 was a heady time for the M&A business and almost every observer of the industry expected 2013 to be the year the deals business broke out of its five year post financial crisis funk. Best laid plans and all that — the low level of deal activity that has occurred to date in 2013 has both surprised and disappointed most industry participants.  Yet there are signs that this could change.
During H1-2013, deal volume fell off significantly, reflecting a cleared pipeline after the year end burst.  Fortune reported that global M&A announcements for Q2-2013 were the slowest since Q3-2009.  The U. S. market fared comparatively better, with the dollar value of announced deals up 34% year to year in H1 2013.  European activity on the other hand collapsed 43% with the Euro crisis and continental recession still in full swing at the time.  Even the relatively high level of U. S. activity depended in great part on the announcement of two large deals (Heinz and Dell) at the beginning of the year.  Without those announcements the U. S. market would have appeared lackluster at best.
The middle market companies we represent depend on both strategic and private equity buyers for business exits.  Most M&A industry observers believe that bulging corporate coffers and slow, organic growth will eventually dictate a strong increase in strategic M&A activity.  With the exception of a few target sectors, particularly IT related businesses, this corporate gold rush has yet to materialize.  As a result, private equity will be a more important source of buyside demand, at least for the near future.
PitchBook publishes a comprehensive analysis of U. S. private equity activity. Their first-half summary tells the story:
"Dealmakers were optimistic heading into 2013, anticipating one of the most active years for private equity (PE) investment since the financial … read the rest
Posted on June 12, 2012
Back in 2008 we wrote that the U. S. was facing a serious credit squeeze in part because we had failed to take into account some important structural changes in the credit markets: i.e. the rapid growth and subsequent collapse of the Shadow Banking system. Since then the Fed and the Treasury have spent enormous resources addressing the impact of that collapse through the purchase of assets from financial institutions, the nationalization of Fannie and Freddie and numerous other actions to prop up the housing market in hopes of repairing shrunken balance sheets throughout the economy.
We may be suffering from a different, but equally portentous, issue today arising from another misreading of what the term money really means. In response to our recent article on Fed tightening since the fall of 2011, John Lounsbury, Managing Editor of econintersect.com, made a very astute observation:
You do not mention it in your article but is it possible that the Fed has not been taking a sufficiently global view and has insufficiently reacted to a recessing Europe and a rapidly slowing Asia? India just dropped to a GDP growth rate below anything seen during the Great Financial Crisis. The manufacturing numbers in China have been flirting with contraction for several months. If the Fed reacts to these factors after they have gained a solid foothold, doesn't that likely increase the magnitude of the yo-yo swings?
The U.S. dollar is without question the world's reserve currency and the current problems of the Euro have only served to cement that position. Given the global demand for $100 bills, in many parts of the globe the dollar is not only the reserve currency, but the defacto physical currency as well. Yet we continue to look at money as a national, or in the case of the Euro, regional … read the rest
Posted on January 31, 2012
If the U. S. economy is to successfully navigate its current perilous course, attention must move from the baggage of the past to the opportunities and challenges of the future.  Nothing symbolizes that better than the comparison of Europe's ongoing economic morass with China's relentless growth.
Our friends at McVean Trading consistently produce one of the most insightful newsletters on global economic trends.  They've been generous to share their recent analysis reprinted below of the global trading shifts that have led to China's current export dominance. We've reprinted the article in full below.  The article includes a interesting analysis of inflation trends in China, but the most important takeaway is that the Chinese surge is not an isolated event, but a continuum of trends that began almost forty years ago, first with Japan's export boom, then with the Korean, Malaysian and Taiwanese Miracles and more recently with the strength of the Chinese manufacturing economy.  These are all part of a global movement to equalization of economic opportunity.
Far from dragging down the American economy, China's boom is better viewed as the extension of trends that started more than 200 years ago when Samuel Slater (unfortunately no relation) memorized the technology developed in England for mechanization of the textile industry and brought it to the U. S.  Andrew Jackson gave Slater credit as being the Father of the American Industrial Revolution.  Of course today the shoe is on the other foot and he would more likely be branded as an intellectual property pirate.
Over time the seat of textile manufacturing moved from New England to the American South and eventually on to China.  It would be hard to argue that, over the longer term, New York or Boston has suffered as a result of the shift in their regional economies from strength in clothing and … read the rest
Posted on January 26, 2012
Posted on January 24, 2012
Over the years one of the best indicators of M&A activity has been what I call the Free Lunch Index. I live in Memphis, normally not a hotbed of middle market M&A activity.  That's why my practice is national in scope.  When banks or private equity groups do come to town looking for deals, I often get a call for lunch, breakfast or coffee.
Since the crash in 2008 it's been fairly lonely out here and I pretty much buy my own lunches. Starting this month, however, I've seen a marked pickup in calls and lunch invitations.  The word appears to be out among both the private equity groups and the financial institutions that now is the time to get back into the market and they're actually spending money to look for deals.
Our experience at Focus indicates that business sale interest has increased strongly since yearend. Apparently we are not alone.  Cyprium Partners, a leading mezzanine financing specialist, recently completed a survey of 175 investment-banking firms throughout the U. S.  Among their findings, 44% of respondents reported more assignments signed or in the market than at a comparable time in 2010.  56% reported that new business pitches were up and less than 10% of the firms reported lower activity.  Bottom line the M&A business is improving and that's consistent with our belief that the overall economy will surprise to the upside.
It's no secret that the U. S. private equity industry has been in a depression over the past three years.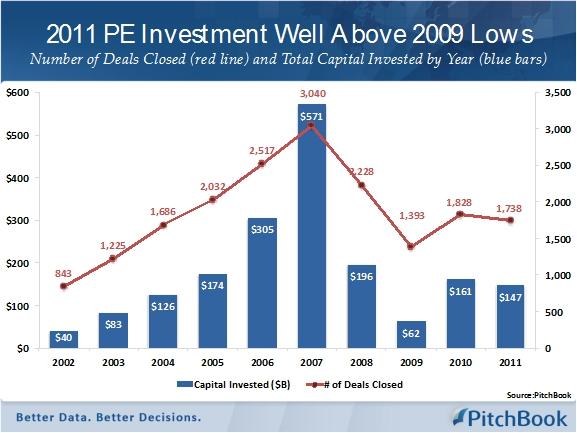 Source: Pitchbook
Private equity deal flow showed great promise this time last year, but fell precipitously by the end of 2011.  Interestingly, according to Capital IQ, global aggregate annual deal flow in terms of number of transactions has been far more stable while dollar values have fluctuated widely.
Year                          # of  … read the rest
Posted on January 23, 2012
Newt Gingrich and Bill Clinton are quick to remind us that twenty years ago they lifted America from the depths of recession, initiating an unprecedented period of prosperity, jobs growth and balanced budgets. Sounds nice, but what if the America of today bears a closer relationship to 1972 than 1992?
In January 1972 America was a bit over a year past the recession of 1969-1970. We had spent much of the prior decade mired in increasingly unpopular wars that had placed a huge drain on the nation's financial resources and we were headed toward a messy exit from our Asian adventure. The Democratic Party was so ideologically divided that it was preparing to nominate George McGovern as its presidential candidate and thus give a resounding second term victory to Richard Nixon. After hitting an all time high of just under 1000 in 1968, the Dow Jones Industrials had experienced a sharp drop during 1969-1970 recession, but had since rallied back to near its highs and was poised to continue to rise into the election season.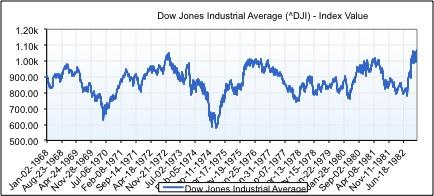 Source: Capital IQ
On the monetary front the U. S. had been engaged in a period of what we would now call quantitative easing, funding debts incurred in the Vietnam War through the printing of new money. M2 had grown 12% in 1971 and was poised to grow another 12% in 1972. As a result the U. S. was running a then unheard of balance of payments deficit and had been forced off the gold standard in August of 1971.
Subsequent events certainly did not turn out well for the U. S. While inflation remained comparatively mild in 1972 at 3.7% for the year, the rate of price growth jumped to 6% by the end of 1973 and 11% in 1974. The ensuing recession of 1973-1975 was comparable in … read the rest