Posted on December 5, 2017
Washington, DC (November 28, 2017) – The world is experiencing a period of unprecedented change as digital connectivity and automation pervade the physical universe of people and things. FOCUS Investment  Banking LLC formed the Advanced  Manufacturing  & AutomationTeam to provide merger, acquisition and capital raising services to businesses affected by this transformation and to support firms supplying the specific tools and technologies driving the innovations.
The FOCUS Advanced Manufacturing & Automation Team currently is pursuing transactions in industries ranging from robotics and industrial automation to autonomous commercial vehicles; from advanced photonics and optics to electronic component manufacturing; from machining and metal engineering to Ag Tech.
The FOCUS team is composed of 15 professionals, including investment bankers, senior advisors, and research analysts. Team members were selected for their deep vertical expertise as both C-Level executives and dealmakers in fields driving — and impacted by — automation. These areas include manufacturing, process automation, software systems, aerospace, defense, logistics, and medical devices and instrumentation. International transaction support is provided by FOCUS' global partner firms in M&A Worldwide.
For more information, contact John Slater, FOCUS Partner and Team Leader, FOCUS Advanced Manufacturing & Automation Team, at 901-684-1274 or John.slater@focusbankers.com.
About FOCUS Investment Banking LLC  
With more than three decades  of experience,  FOCUS Investment Banking is a trusted name in M&A advisory services worldwide.  FOCUS works to understand each client's strategic and financial objectives, craft the best plan to achieve these goals, and deliver success. Whether helping to sell, buy, or raise capital, FOCUS strives to maximize the value of every transaction to the benefit of its clients. Securities transactions  conducted  by FOCUS Securities LLC, an affiliated company, registered Broker Dealer member FINRA/SIPC. For more information on FOCUS, visit www.focusbankers.com/automation.
How to Fix 502 Bad Gateway Error in WordPress Easily
Posted on November 5, 2017
Written by John Slater
co-authored by Steven Hansen
We live in a time of great paradox. Technologies such as low cost renewable energy and automated production tools promise a world of abundance in which global poverty is abolished and human drudgery is eliminated. Yet even a casual glance at the daily news confronts us with a sense of dread that, far from Utopia, we are instead headed toward a dystopian future in which the benefits of technological advance will be reserved for a privileged few.
The disquieting consequence is that the bulk of humanity is relegated to scraping out a meager existence in a mean-spirited world where jobs (and the prosperity they bring) are reserved for a global elite trained to read the sacred texts of a new religion of technology.
Is the social contract of Western civilization, promising fair treatment and opportunity for all, which took root in 18th century England and France and flowered in the post WWII democracies, destined to fail? Just how will the world adapt to the current wave of technological advance which threatens the jobs of today's middle class much as Mr. McCormick's reaper drove earlier generations from the farms and into the factories of a prior era?
Econintersect has asked two contributors, John Slater and Steven Hansen, to discuss some aspects of this conundrum concerning how and where automation and robotics will impact the new economy and how social institutions, specifically education, can address these challenges.
---
John Slater is a Partner of FOCUS Investment Banking and Team Leader of the firm's AdvancedManufacturing and Automation practice, providing merger and acquisition and capital raising services primarily for private middle market companies. He is a Chartered Financial Analyst and holds an AB in economics from Princeton and a JD from the University of Virginia.
Steven Hansen, co-founder and Publisher of … read the rest
Posted on October 3, 2017
Recently my colleague Marco Chan shared an extraordinary story that puts a new slant on the public discussion about robotics, China, outsourcing and the future of jobs.  According to this Bloomberg Business Week story,  a Chinese manufacturer, Tianyuan Garments Co., is investing $20 million to open a plant in Little Rock that will utilize robots developed by a Georgia company, Software Automation, to manufacture T-Shirts at a cost of 33 cents per shirt.  Each SEWBOT™ workline is capable of spitting out a T-Shirt every 26 seconds.  Human workers don't stand a chance against such competition, no matter how low a wage rate they are willing to accept.
We're in a period of profound change as digital technologies promise to transform virtually every industry globally.  In manufacturing this rapidly accelerating transformation will impact employers and employees alike.  PWC recently estimated that 38% of U.S. jobs could be taken by robots by 2030.  Futurists like Martin Ford and even well-known industrialists like Elon Musk have begun to argue that we need to consider adoption of a Universal Basic Income to address a world in which machines and artificial intelligence have replaced human beings in a large part of the economy.
For those that fear the consequences of automation, the connection has been broken between technological advance and the creation of new higher skilled jobs categories to replace the old lower skilled jobs.  I have more confidence that a dynamic economy will continue to provide opportunities for our citizens, creating currently unimaginable job categories for those willing and able to adapt.  Lifetime learning has become a survival skill in our society, opening up new business opportunities in education and training and likely creating hundreds of thousands of jobs in the process.
At the FOCUS Investment Banking Advanced Manufacturing & Automation Team we spend our time addressing … read the rest
Posted on February 9, 2013
Authored by John Mason
Things are changing in the financial markets. Financial institutions are starting to make money again in mortgages. Money market funds are "flush with cash." Collateralized Debt Obligations (CDOs) and Collateralized Loan Obligations (CLOs) are staging a comeback.
And, now there is the $24 billion deal by Michael Dell to take his company private. The interpretation of this transaction that I am most interested in is the one being mentioned in almost all the stories coming out in the press: "This is the largest corporate privatization since the financial crisis and the largest tech buyout ever."
I am not interested so much in whether or not Dell, Inc. (DELL) is eventually saved. What I am interested in is what is happening in finance. It appears as if money is being mobilized again.
Goodness knows, the Federal Reserve has done just about everything it can to push money out into the economy. Comedians have gotten serious about QE1 and QE2 and QE3 … and QEfinity!
It has only been in the past six months or so that there has been any evidence of funds creeping out of the commercial banking system into other parts of the economy. But now, evidence seems to be growing of money flowing into other parts of the economy. This latest transaction, the creation of a large buyout deal, with the growing possibility that others are thinking about more deals, or even mergers and acquisitions, is very encouraging.
Over the past couple of years, myself and others have wondered about all the cash being built up in the coffers of large corporations. It seemed as if these large organizations were piling up cash hoards in preparation for moving in on less well-off institutions and making deals while the getting was good and while interest … read the rest
Posted on September 25, 2012
Originally Published at Global Economic Intersection under the title Buddy Can You Spare a Dime?

Written by John Slater, Capital Matters
"Republicans are heartless monsters who have no compassion for the victims of a financial crash they caused by manipulating Wall Street."
"Democrats are committed to destroy the American system by redistributing the hard-earned products and services of America's businesses to shiftless moochers."
Wow, are we making progress in the current political debate!
Follow up:
Cyclical or Structural?
For economists the discussion revolves around a more civil discourse on whether the current high level of unemployment results from a severe cyclical downturn or from a structural change in the American economy. The Federal Reserve has forcefully adopted the cyclical downturn mantra, committing $500 billion per year to the assumption that, with more financial stimulus, the jobs will come back.
Buffalo Springfield's insight from the 1960s is still valid:
I think it's time we stop, hey, what's that sound?
Everybody look what's going down
What a field day for the heat
A thousand people in the street
Singing songs and carrying signs
Mostly say, hooray for our side
A Big Bet With Millions of Human Poker Chips
We are in the process of making an enormous bet with the American economy. The risks are not trivial: inflation, deflation, financial and social collapse are just a few. Yet what if this bet is being made based upon a misunderstanding of the problem with which we are faced.
Steven Hansen recently produced a rather depressing chart showing that, despite a period of steady economic recovery, civilian employment in relation to population flatlined beginning in late 2009, after a very sharp drop from 63% to 58% during the financial crisis.
The Robot … read the rest
Posted on January 26, 2012
Posted on January 23, 2012
Newt Gingrich and Bill Clinton are quick to remind us that twenty years ago they lifted America from the depths of recession, initiating an unprecedented period of prosperity, jobs growth and balanced budgets. Sounds nice, but what if the America of today bears a closer relationship to 1972 than 1992?
In January 1972 America was a bit over a year past the recession of 1969-1970. We had spent much of the prior decade mired in increasingly unpopular wars that had placed a huge drain on the nation's financial resources and we were headed toward a messy exit from our Asian adventure. The Democratic Party was so ideologically divided that it was preparing to nominate George McGovern as its presidential candidate and thus give a resounding second term victory to Richard Nixon. After hitting an all time high of just under 1000 in 1968, the Dow Jones Industrials had experienced a sharp drop during 1969-1970 recession, but had since rallied back to near its highs and was poised to continue to rise into the election season.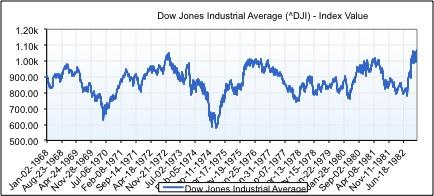 Source: Capital IQ
On the monetary front the U. S. had been engaged in a period of what we would now call quantitative easing, funding debts incurred in the Vietnam War through the printing of new money. M2 had grown 12% in 1971 and was poised to grow another 12% in 1972. As a result the U. S. was running a then unheard of balance of payments deficit and had been forced off the gold standard in August of 1971.
Subsequent events certainly did not turn out well for the U. S. While inflation remained comparatively mild in 1972 at 3.7% for the year, the rate of price growth jumped to 6% by the end of 1973 and 11% in 1974. The ensuing recession of 1973-1975 was comparable in … read the rest
Posted on December 19, 2011
America is stumbling toward one of the most important decisions it has made in decades: how to bring our financial accounts back to a sustainable balance.  Due to a lack of perspective on tax policy over time, the political decision makers and the media have accepted misleading data with regard to an assumed increase in inequality of income as the primary framework for the debate.
With tax receipts at historic lows and expenditures heading for the stratosphere, no rational observer doubts that this decision will entail a combination of both spending cuts and tax hikes.  Republican rhetoric aside, the real question on the tax side of the debate is how these tax increases will be structured.  I am increasingly concerned that Congress will make a huge mistake that will penalize the mid-sized businesses, i.e. growing companies with 50 to 500 employees, that serve as the backbone of American productivity and that are the only hope for domestic jobs growth.
Let's start with a bit of history from my personal experience, first as a business and tax lawyer and for twenty-eight years as an investment banker serving entrepreneurial businesses in M&A and arranging business financings.  When I started in practice, essentially all substantial businesses with which we worked were structured as C Corporations.  A typical client might be a manufacturer with 100 plus employees, revenue of $10 million plus and pre-tax profits of $1-2 million.  The owner often took a surprisingly small salary, say $100-125,000, paid a small amount of personal expenses from the business and retained the rest of the company's profits in the corporation.
As a result of changes in federal tax law and the parallel development of Limited Liability Corporations (LLCs), a major shift from C-Corporations to pass-through entities began in the middle 1980s.  To demonstrate how dramatic this shift has been, … read the rest