Posted on January 31, 2012
If the U. S. economy is to successfully navigate its current perilous course, attention must move from the baggage of the past to the opportunities and challenges of the future.  Nothing symbolizes that better than the comparison of Europe's ongoing economic morass with China's relentless growth.
Our friends at McVean Trading consistently produce one of the most insightful newsletters on global economic trends.  They've been generous to share their recent analysis reprinted below of the global trading shifts that have led to China's current export dominance. We've reprinted the article in full below.  The article includes a interesting analysis of inflation trends in China, but the most important takeaway is that the Chinese surge is not an isolated event, but a continuum of trends that began almost forty years ago, first with Japan's export boom, then with the Korean, Malaysian and Taiwanese Miracles and more recently with the strength of the Chinese manufacturing economy.  These are all part of a global movement to equalization of economic opportunity.
Far from dragging down the American economy, China's boom is better viewed as the extension of trends that started more than 200 years ago when Samuel Slater (unfortunately no relation) memorized the technology developed in England for mechanization of the textile industry and brought it to the U. S.  Andrew Jackson gave Slater credit as being the Father of the American Industrial Revolution.  Of course today the shoe is on the other foot and he would more likely be branded as an intellectual property pirate.
Over time the seat of textile manufacturing moved from New England to the American South and eventually on to China.  It would be hard to argue that, over the longer term, New York or Boston has suffered as a result of the shift in their regional economies from strength in clothing and … read the rest
Posted on January 26, 2012
Posted on January 24, 2012
Over the years one of the best indicators of M&A activity has been what I call the Free Lunch Index. I live in Memphis, normally not a hotbed of middle market M&A activity.  That's why my practice is national in scope.  When banks or private equity groups do come to town looking for deals, I often get a call for lunch, breakfast or coffee.
Since the crash in 2008 it's been fairly lonely out here and I pretty much buy my own lunches. Starting this month, however, I've seen a marked pickup in calls and lunch invitations.  The word appears to be out among both the private equity groups and the financial institutions that now is the time to get back into the market and they're actually spending money to look for deals.
Our experience at Focus indicates that business sale interest has increased strongly since yearend. Apparently we are not alone.  Cyprium Partners, a leading mezzanine financing specialist, recently completed a survey of 175 investment-banking firms throughout the U. S.  Among their findings, 44% of respondents reported more assignments signed or in the market than at a comparable time in 2010.  56% reported that new business pitches were up and less than 10% of the firms reported lower activity.  Bottom line the M&A business is improving and that's consistent with our belief that the overall economy will surprise to the upside.
It's no secret that the U. S. private equity industry has been in a depression over the past three years.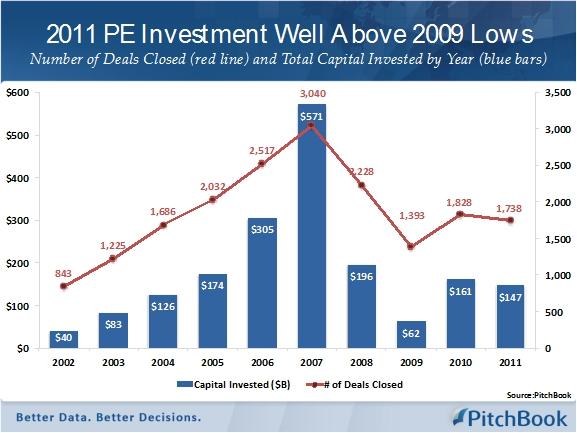 Source: Pitchbook
Private equity deal flow showed great promise this time last year, but fell precipitously by the end of 2011.  Interestingly, according to Capital IQ, global aggregate annual deal flow in terms of number of transactions has been far more stable while dollar values have fluctuated widely.
Year                          # of  … read the rest
Posted on January 23, 2012
Newt Gingrich and Bill Clinton are quick to remind us that twenty years ago they lifted America from the depths of recession, initiating an unprecedented period of prosperity, jobs growth and balanced budgets. Sounds nice, but what if the America of today bears a closer relationship to 1972 than 1992?
In January 1972 America was a bit over a year past the recession of 1969-1970. We had spent much of the prior decade mired in increasingly unpopular wars that had placed a huge drain on the nation's financial resources and we were headed toward a messy exit from our Asian adventure. The Democratic Party was so ideologically divided that it was preparing to nominate George McGovern as its presidential candidate and thus give a resounding second term victory to Richard Nixon. After hitting an all time high of just under 1000 in 1968, the Dow Jones Industrials had experienced a sharp drop during 1969-1970 recession, but had since rallied back to near its highs and was poised to continue to rise into the election season.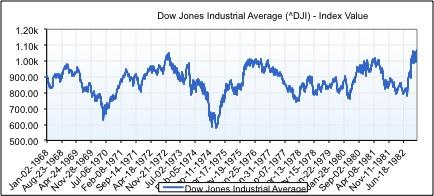 Source: Capital IQ
On the monetary front the U. S. had been engaged in a period of what we would now call quantitative easing, funding debts incurred in the Vietnam War through the printing of new money. M2 had grown 12% in 1971 and was poised to grow another 12% in 1972. As a result the U. S. was running a then unheard of balance of payments deficit and had been forced off the gold standard in August of 1971.
Subsequent events certainly did not turn out well for the U. S. While inflation remained comparatively mild in 1972 at 3.7% for the year, the rate of price growth jumped to 6% by the end of 1973 and 11% in 1974. The ensuing recession of 1973-1975 was comparable in … read the rest
Posted on January 22, 2012
In January we are trained to predict the likely course of the coming year and more often than not we get it wrong. This year virtually everyone has had the same prediction: "We'll muddle along at around 2.5% growth unless something really bad happens and then all bets are off." The outliers tend to focus on the possibility that we are heading for a recession based in part on the negative call from the Economic Cycle Research Institute (ECRI). Yet some of the economic data is not cooperating with the doomsayers and our observations in the real world are that business for many of our clients is not all that bad and is in fact improving.
What if the pessimists are wrong and 2012 turns out to be a far more positive year for the economy than many are predicting? While the jury is still out, the data continues to improve in terms of employment and consumer spending.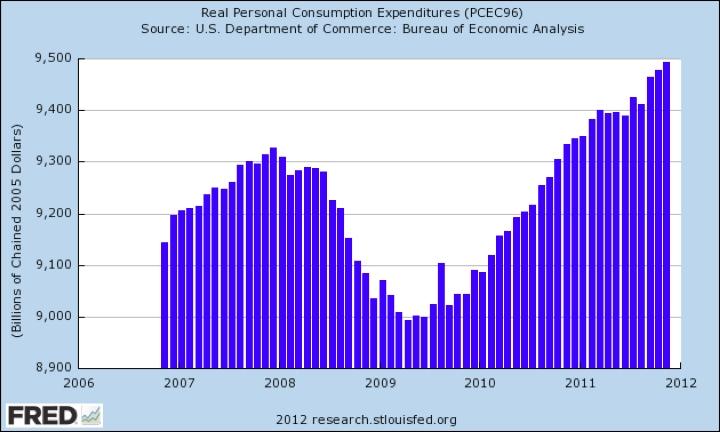 Credit to Hale Stewart who recently published this and a number of other charts supportive of a positive economic case on Seeking Alpha. What's the chance he could turn out to be right? Ignoring for the moment all the could go wrongs, what's the case for a far stronger 2012 than is currently being predicted?
1. Everyone wants things to get better. This is not trivial. After four years of depression, everyone longs for the good old days. 2012 is predicted to be the best year since 2007 for the travel industry. What happens if Americans who have been accumulating dry powder for the past four years suddenly loosen their purse strings?
2. The Fed is committed to a massive and continuing program of monetizing the massive deficits the federal government continues to run. As we wrote recently, this has created a huge overhang of … read the rest
Posted on January 17, 2012
Much ink is being spilled on when/if the Fed will move to the next iteration of its quantitative easing program. That's the wrong question. The Fed and the world's other major monetary authorities have effectively been captured by national treasuries running historically high budgetary deficits and their chief function has become the funding of governmental expenditures that cannot or will not be funded through taxes. Continued pressure to monetize the debt is a foregone conclusion so long as the deficits continue at their current levels.
A year ago we explored Chairman Bernanke's position that "QE II (the purchase of long term Treasury Bonds by the Federal Reserve) is not inflationary and has not created an explosion of the money supply."
How could it be the case that rapid monetary expansion could be accomplished without an inflationary impact? Keynes, though much maligned and misused, provided a clear explanation for this one with his description of a "liquidity trap". In normal credit environments new reserves added to the banking system are magically multiple through the working of fractional banking, creating a significant multiplier effect on business activity throughout the economy.
In a liquidity trap this no longer works; reserves just sit at the banks and the money multiplier sinks. That's where we are today as recently outlined by Paul McCulley, Chairman of the Society of Fellows of the Global Interdependence Center and former PIMCO trader, in a recent CNBC interview. As a result the Fed has been able to create in excess of $1.5 Trillion of excess bank reserves since the 2008 crash
Looked at globally, the trend is even more dramatic.
Source: Zero Hedge
The size of the combined Federal Reserve, European Central Bank and Bank of Japan balance sheets has grown from a historical norm of … read the rest